Weight Gainer Cookies (252 Calories Each)
These soft and chewy weight gainer cookies are made with just 5 ingredients! They only require one bowl and a spoon to prep, and each cookie is packed with 252 calories and 12 grams of protein.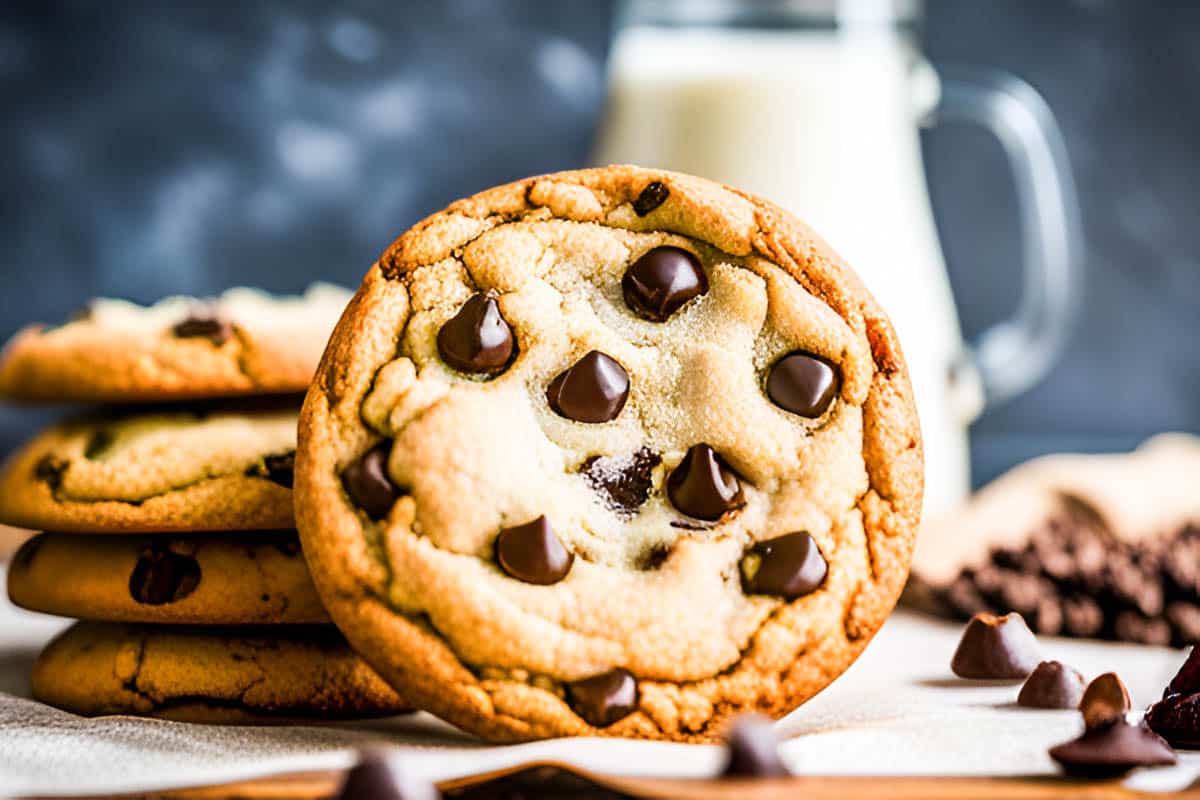 When it comes to gaining weight, I have some excellent recipes that I like to use for quick snacks. Two of my go-to's are this 700-calorie weight gain shake and high calorie fruit smoothie packed.
And these weight gain cookies? They're exceptional. They're like a chocolate chip cookie I can enjoy without feeling guilty because I know they're helping me reach my weight gain goals.
They make a great post-workout snack as they contain enough simple carbohydrates to quickly refuel my glycogen levels and a good amount of protein for muscle repair and growth.
Ingredients
Each ingredient has been carefully chosen to ensure these weight gain cookies are both high in calories and nutrient-dense. Let's delve into the specifics of each one and how they contribute to the recipe.
Peanut Butter: I prefer using smooth peanut butter for a more cookie-like texture. Feel free to swap peanut butter for any type of other nut butter, like almond butter.
Coconut Sugar: Coconut sugar has a lower glycemic index than regular white sugar, making it a healthier option. It also gives a delightful, slightly caramel-like flavor to the cookies. Brown sugar can work as a substitute if you don't have coconut sugar on hand.
Egg: The egg acts as a binding agent in these cookies. For a vegan alternative, a flax egg (1 tablespoon ground flaxseeds mixed with 2.5 tablespoons water) can work.
Vanilla Protein Powder: This gives a boost of protein and adds flavor. There are numerous brands on the market; pick one you enjoy the taste of, but do ensure it's suitable for baking. Most casein protein powders work well.
Chocolate Chips: These make the cookies feel like your everyday chocolate chip cookie, making them easier to eat. If you want to increase the protein content, you can use protein-enriched chocolate chips. Alternatively, dark chocolate chips add a nice antioxidant boost.
Expert Tips
To make these high calorie cookies even more delightful, here are a few extra insights you may want to consider.
The protein powder: Make sure to use a good quality protein powder as the taste will come through in the cookies. Casein protein powder works best for these cookies for baked goods, but you can also use whey or pea.
Chill the dough for thicker cookies: For even thicker and chewier cookies, chill the dough in the fridge for 30 to 45 minutes before baking. This helps to firm up the dough and reduces spreading during baking, leading to a thicker and chewier cookie.
The center should look soft: These cookies should appear slightly underbaked in the middle when you remove them from the oven. They will finish cooking on the baking tray and set while they cool.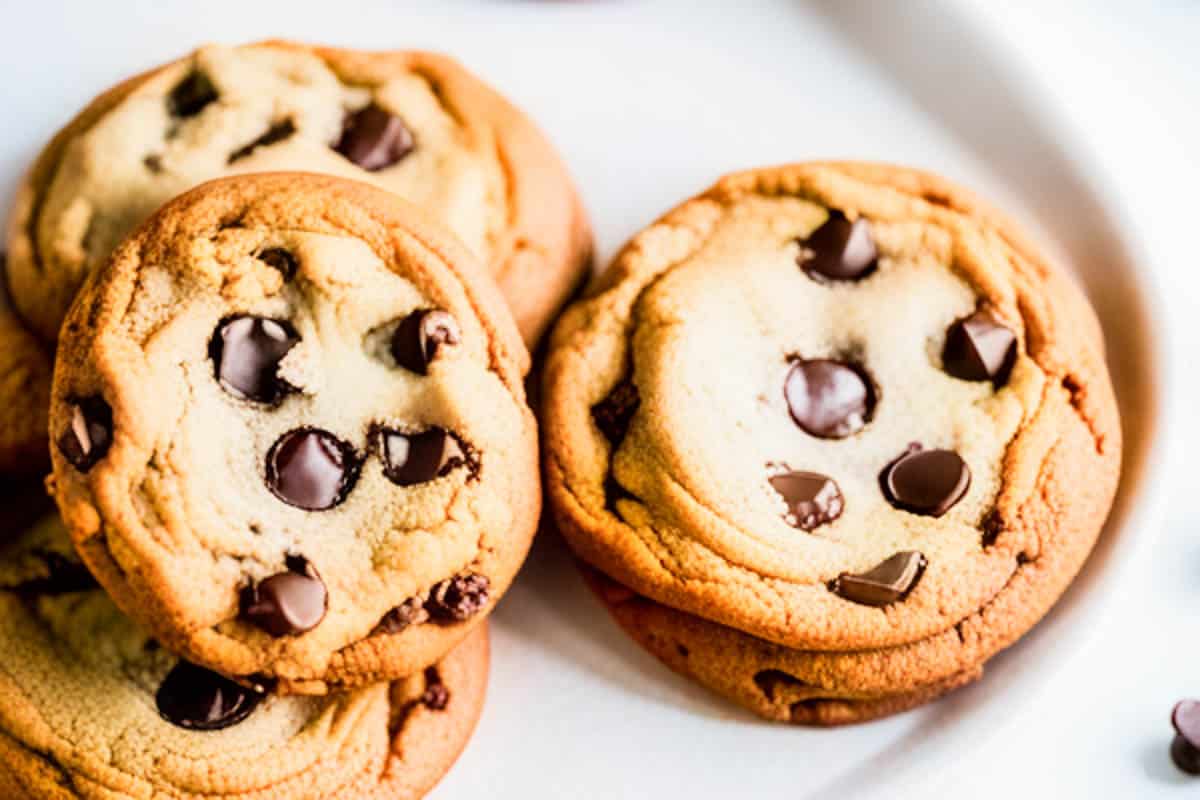 Storage Information
Place any leftover cookies in an airtight container and store them at room temperature. They will stay fresh and delicious for up to a week.
If you'd like to keep them longer, consider freezing them. After they've cooled completely, place the cookies in a freezer-safe bag or container. When stored in the freezer, these cookies can last for up to 3 months.
Whenever you're ready to enjoy one, just let it thaw at room temperature for a few hours.
FAQs
Can I use a different type of nut butter?
Yes, if you prefer a different type of nut butter, feel free to substitute. Almond butter works well in this recipe.
Can I use a sugar substitute?
While coconut sugar is used in this recipe for its lower glycemic index and richer flavor, you could potentially use a sugar substitute. Just keep in mind that it will alter the taste, texture, and nutritional content of the cookies.
Can these cookies aid in muscle recovery after workouts?
Yes, these cookies are packed with protein, which is vital for muscle recovery and growth. Consuming these after a workout can help replenish protein stores and promote muscle recovery. The simple carbohydrates from the coconut sugar can also aid in quickly restoring glycogen levels.
Weight Gainer Cookies (252 Calories Each!)
These delicious weight gain cookies have a soft and chewy texture, and they're incredibly easy to make with only 5 ingredients! Each cookie is loaded with 252 calories and contains 12 grams of protein, making them a perfect treat for anyone looking to bulk up or increase their calorie intake.
Equipment
Wooden Spoon

Mixing Bowl

Baking tray
Ingredients
1

cup

peanut butter

2/3

cup

coconut sugar

1

large egg

2

oz

vanilla protein powder

1/4

cup

chocolate chips
Instructions
Preheat the oven to 350°F (180°C). Prepare a baking tray by lining it with parchment paper.

In a small mixing bowl, combine the peanut butter, coconut sugar, egg, vanilla protein powder, and chocolate chips. Mix all the ingredients together until they're fully incorporated.

Now, using your hands, shape the cookie dough into 10 balls and place them evenly on the lined cookie sheet.

Next, press down on each ball of cookie dough to flatten it into a cookie shape. Be sure to leave enough space around each cookie to allow for spreading.

Place the cookie sheet in your preheated oven and bake the cookies for about 13 to 15 minutes. You'll know they're done when the edges start to turn a light golden brown.

Remove the cookies from the oven and let them cool on the baking sheet. Resist the urge to remove them before they're cooled, as they need time to set.
Notes
To keep any remaining cookies fresh and tasty, transfer them into an airtight container and store them at room temperature. By doing so, you can enjoy them for up to a week.
It's important to select a high-quality protein powder for the cookies as it significantly affects their taste. Casein protein powder is recommended for these cookies due to its optimal performance in baked goods but you can also use other types like whey or pea.
Nutrition
Calories:
252
kcal
Carbohydrates:
18
g
Protein:
12
g
Fat:
16
g
Saturated Fat:
4
g
Polyunsaturated Fat:
3
g
Monounsaturated Fat:
8
g
Trans Fat:
0.01
g
Cholesterol:
26
mg
Sodium:
41
mg
Potassium:
201
mg
Fiber:
2
g
Sugar:
11
g
Vitamin A:
42
IU
Calcium:
37
mg
Iron:
1
mg
Pin for Later: