10 Best High Calorie Cookie Recipes
Get ready for some delicious, high-calorie cookie recipes! These aren't just tasty treats; they're also designed to help you add some extra calories.
Perfect for athletes needing energy-packed snacks or anyone looking to gain some weight, I've got 10 excellent recipes just for you. Each one has a mix of good nutrients, high calories, and great taste.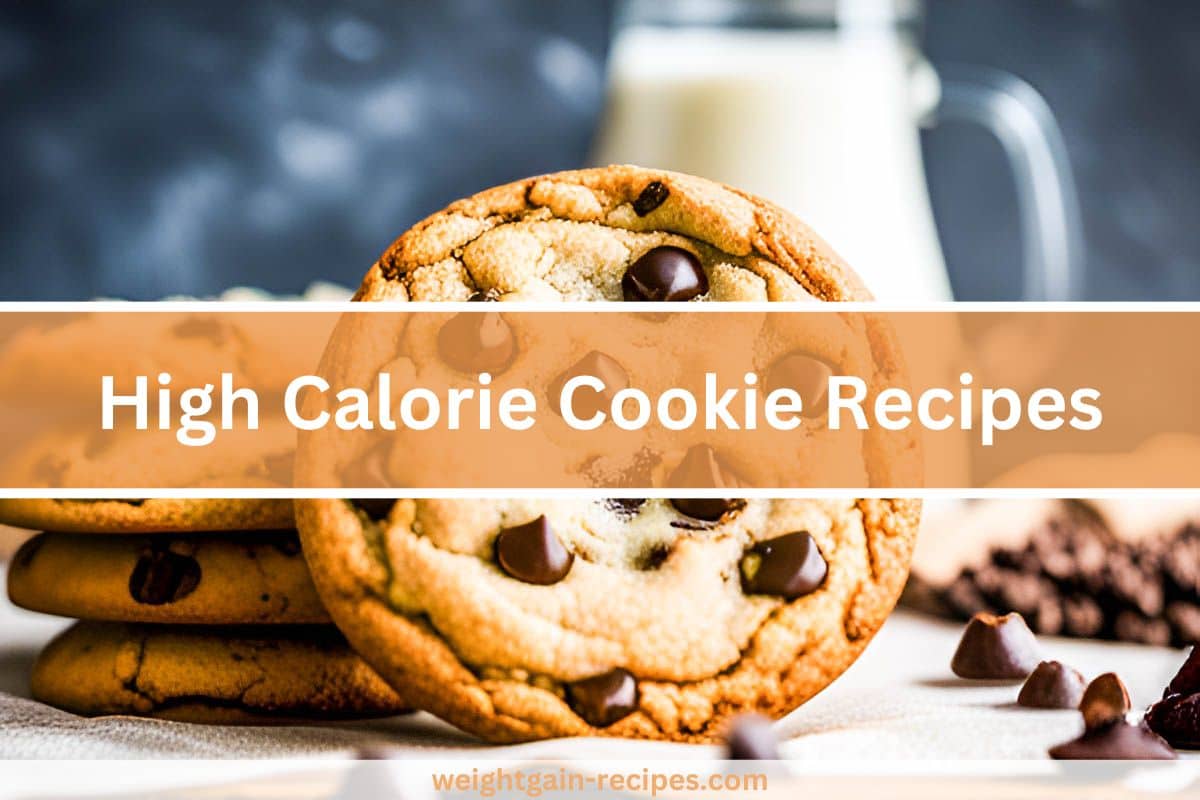 The Importance of High-Calorie Foods for Weight Gain
Before we dive into the mouth-watering recipes, let's take a moment to understand why high-calorie foods are essential for weight gain. Consuming more calories than your body burns is the primary driver of weight gain.
But it's not just about eating more; it's about eating right. Consuming high-calorie foods that are also rich in nutrients ensures that you're not just gaining weight, but you're also nourishing your body.
When made with the right ingredients, cookies can provide a potent combination of healthy fats, proteins, and carbohydrates, making them an excellent choice for anyone looking to gain weight.
---
10 High Calorie Cookie Recipes
1 – Easy Weight Gainer Cookies
These soft, chewy, easy weight gainer cookies are made with only 5 ingredients and take just 17 minutes! They are prepared using just one bowl and a spoon, and each cookie contains 252 calories and 12 grams of protein. These are my favorite high-calorie cookie recipe!
---
2 – Healthy Chocolate Chip Cookie
Treat yourself to these delightful chocolate chip protein cookies, a perfect healthy dessert option. With a generous 14 grams of protein per serving, these cookies offer a nutritious way to satisfy your sweet tooth.
---
3 – Chocolate Peanut Butter Protein Cookies
Get ready to indulge in these irresistibly delicious chocolate peanut butter protein cookies made with only five simple ingredients.
Each cookie packs nearly 200 calories and an impressive 10g of protein, making them a satisfying and nutritious treat.
---
4 – Vegan Protein Chocolate Chip Cookies
Satisfy your sweet tooth with these chewy chocolate chunk vegan protein cookies, an ideal choice for a low-carb treat. This recipe is grain-free and paleo-friendly, catering to various dietary preferences.
Moreover, these cookies are sweetened solely with pure maple syrup, providing a natural and wholesome sweetness.
---
5 – Flourless Oatmeal Protein Cookies
These cookies serve as a delightful option for breakfast or a healthy snack. This recipe is thoughtfully crafted to be gluten-free, accommodating those with specific dietary needs.
---
6 – Vegan Protein Cookies
By opting for homemade cookies, you can enjoy the benefits of knowing exactly what ingredients go into them.
---
7 – Chocolate Chip Protein Cookies
Enjoy these homemade cookies' soft texture and delightful flavors, complete with gooey chocolate chips. Try it and satisfy your sweet tooth with this simple protein-packed recipe.
---
8 – Paleo Cookies
Discover these wholesome protein chocolate chip cookies crafted with almond flour and pea protein. They're gluten-free and dairy-free, making them suitable for those with specific dietary requirements.
---
9 – Keto Peanut Butter Cookies
These delicious keto peanut butter cookies are incredibly soft, chewy, and irresistible. Plus, you can enjoy them even if you prefer sugar-free or egg-free options!
---
10 – Keto No-Bake Cookies
You'll love these if you want simple and quick keto high-calorie cookies. They're effortless to prepare and require just a few ingredients like shredded coconut, peanut butter, and cocoa powder.
These cookies offer a fantastic combination of crunch, crispiness, and chewiness. Moreover, they're gluten-free, healthy, and loaded with protein and fiber.
---
Expert Tips and Tricks
Now that I've shared my top 10 high-calorie cookie recipes, here are a few tips to help you enjoy them to the fullest:
Boost Your Calorie Intake: Looking for ways to increase your calorie intake further? Pair your cookies with a creamy glass of whole milk or a weight gain shake. Not only does this make for a delicious combo, but it also helps you pack in more calories.
Proper Storage Is Key: To ensure the freshness and flavor of your cookies remain intact, store them in a container with a tight seal. This will protect them from air and moisture that can make them stale. You can make a double batch and freeze half for most of these high-calorie cookie recipes. Arrange them in a single layer in a freezer-friendly container, separated by parchment paper if stacked. This way, you'll have a ready supply of high-calorie treats lasting up to three months!
Conclusion
Remember, the key to healthy weight gain is not just consuming more calories but ensuring those calories come from nutrient-rich foods. And these selections of high calorie cookies offer just that—a delicious combination of high-quality calories and essential nutrients.