12 High-Calorie Desserts That Are Actually Healthish
When it comes to desserts, especially high-calorie desserts, they often get equated with unhealthy. But, that's not always the case. It's possible to create energy-dense, indulgent desserts that are packed with nutritional goodness.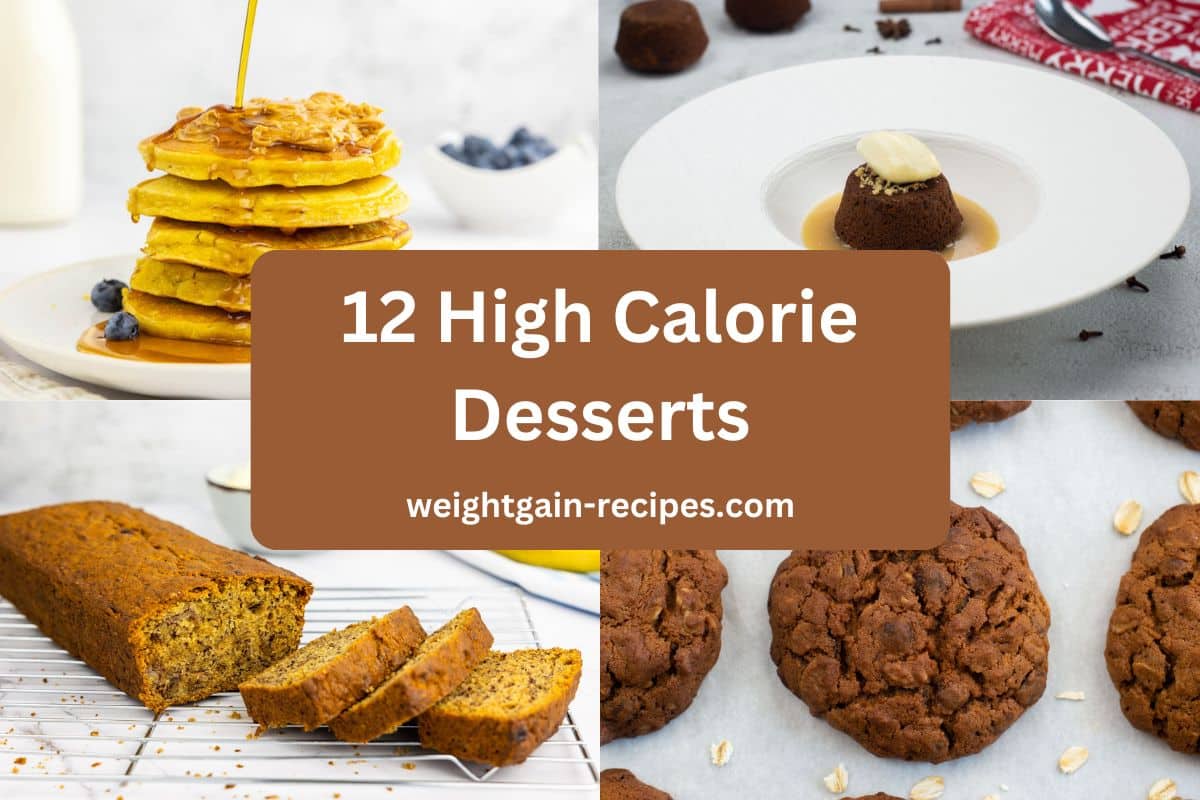 These high-calorie, nutritious dessert recipes are perfect for those who need a sweet, energy-rich finish to their meals, athletes needing substantial post-workout treats, or individuals looking for ways to gain weight healthily.
---
12 High-Calorie Desserts That Are Actually Healthish
1 – Protein Pancakes
Who doesn't love pancakes? Especially when they are light, fluffy and protein-packed! These pancakes pair perfectly with your choice of fresh fruit, crunchy nuts, or a drizzle of your favorite syrup for a well-rounded and satisfying dessert.
---
2 – Apple Crumble
This delicious traditional apple crumble uses only a handful of ingredients and is delicious. To make it a healthier dessert option, increase the oat-to-flour ratio to 50/50 and swap brown sugar for coconut sugar.
---
3 – Vegan Banana Bread
Savor a slice of this dairy-free, vegan-friendly banana bread that's as moist and flavorful as traditional versions. Using everyday pantry ingredients and requiring only ten minutes of prep time, this recipe makes baking a breeze.
It can also be easily made gluten-free by replacing wheat flour with your preferred gluten-free variety.
---
4 – Sticky Toffee Pudding
Indulge in this homemade sticky toffee pudding featuring the natural sweetness and richness of date puree.
Each spoonful delivers a moist, soft bite that is sure to satisfy any sweet tooth, making this dessert a crowd-pleaser that you can feel good about serving.
---
5 – Oatmeal Cookies
These vegan oatmeal chocolate chip cookies are a joy to make and eat. Prepare a batch in just 25 minutes with a single bowl, and savor the chewy texture from the oats coupled with the decadent flavor of chocolate chips and coconut sugar. Enjoy this healthy take on a cookie classic without any guilt.
---
6 – Flourless Protein Brownies
Satisfy your sweet tooth with these incredibly moist, chewy, and melt-in-your-mouth protein brownies that pack up to fifteen grams of protein each!
These brownies offer a perfect blend of indulgence and nutrition and can be tailored to suit vegan, gluten-free, low calorie, low carb, paleo, and sugar-free diets.
---
7 – Paleo Cookie Dough Bars
Bite into these low sugar, high protein Chocolate Chip Cookie Dough Bars that taste just like actual cookie dough.
Easy to make and fulfilling, these no-bake bars are the perfect Paleo and Vegan-friendly snack to have on hand when you need a quick energy boost.
---
8 – Chocolate Baked Protein Oats
Enjoy these scrumptious single-serve baked protein chocolate oats. Quick to prepare and packed with over 30 grams of protein per serving, they're a dessert that's as healthy as it is decadent.
Naturally gluten-free and vegan-friendly, these baked oats are sure to become a favorite.
---
9 – Paleo Cinnamon Blondies
Delight in these Paleo Cinnamon Roll Blondies that encapsulate all the flavors of a traditional cinnamon roll in an easier, healthier form. Gluten-free, dairy-free, and naturally sweetened, this is a dessert you can indulge in without worry.
---
10 – Blueberry Pie Crumb Bars
These simple-to-make paleo blueberry pie crumb bars feature a shortbread crust, a thick blueberry layer, and a crumbly topping.
Layered with flavor and goodness, these bars are gluten-free, dairy-free, vegan, and naturally sweetened – a health-conscious treat to savor anytime.
---
11 – Paleo S'Mores
Enjoy a taste of summer with these grain-free, dairy-free, and refined-sugar-free Paleo S'Mores bars.
Featuring a graham cracker crust, a decadent chocolate layer, and a burnt marshmallow topping, they capture the essence of the classic summer treat in a healthier form.
---
12 – Coconut Mango Pudding
Savor the tropical flavors of this creamy Coconut Mango Pudding. Made high calorie fruits like fresh mango, coconut milk, this pudding is a celebration of simple ingredients and delightful flavors.
With no dairy and following a paleo regimen, this dessert is an easy and guilt-free way to enjoy the sweet taste of mango with every spoonful.
---
Benefits of High-Calorie Healthy Desserts
High-calorie, nutrient-packed desserts offer a variety of benefits. The most obvious one is that they provide a substantial energy boost which is great for restoring glycogen levels post-workout.
In addition, these desserts serve as a fantastic way to achieve healthy weight gain. By using wholesome ingredients that are both high in calories and nutrients, these desserts ensure you're not just increasing your calorie intake but also nourishing your body with essential vitamins, minerals, and other nutrients.
Finally, these desserts are often rich in proteins, healthy fats, and fiber – nutrients that play critical roles in maintaining overall health. Proteins help repair and grow muscles, healthy fats support numerous bodily functions, including hormone production, and fiber aids in maintaining a healthy digestive system.
Conclusion
As we wrap up these high-calorie, nutritious desserts, it's clear that indulgence and health can go hand in hand. The key is focusing on the quality of calories consumed.
The featured recipes deliver on the promise of high-energy, nutrient-rich sweets that satisfy your sweet tooth while also promoting your health.
Whether you're an athlete, aiming for healthy weight gain, or have high-energy needs, it's all about balancing your calorie intake with nutrient-rich ingredients.